Volunteering for the De Pere Area Chamber of Commerce is crucial as it fosters a strong sense of community engagement and collaboration.
Looking for Volunteering Opportunities?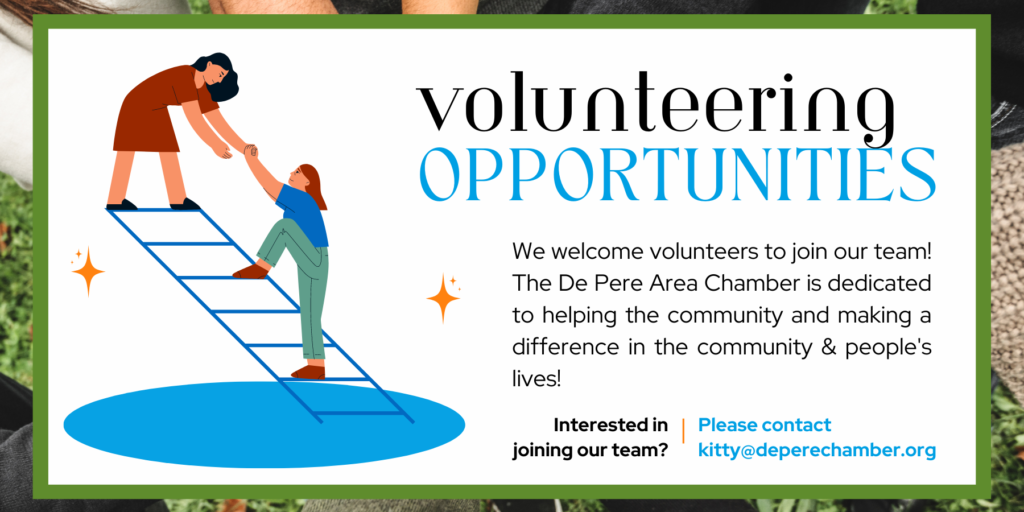 By giving your time and skills, you contribute to the growth and success of local businesses, ultimately enhancing the overall economic development of the region. Furthermore, volunteering allows you to establish valuable connections, expand your professional network, and gain firsthand knowledge of the diverse industries and opportunities present within the De Pere area.
Thank You for Your Volunteering in Strengthening Our Community!
Ambassadors 
Peter Froelich
Ryan Kraft
Evan Mathu
Chris Robinson
Jonathan Peterson
Tony Giordana
Robert Jahnke
Kathryn Gardner
Morgan Orlando
Justin Steinbrinck
Ross Kroll
EVENTS COMMITTEE
Adam Turriff
Logan Brecklin
Julie Coppersmith
Elizabeth Coenen
Dominic Reinerio
Jason Graef
Dan VanStraten
Peter Froelich
Robert Jahnke
Steve & Patti Payant
Morgan Orlando
Economic Development Committee
Michael Krutz
Carol Karls
Barbara Koldos
Dan Lindstrom
Steve Dill
Bruce Russell
Rob Peterson
Dustin Ackers
Corey Wollin
Mark Dunning
Michelle Tyo-Johnson
Marketing Committee 
David VandenBloomen
Chris Robinson
Raegan Olm
Mark Dunning
Ryan Leurquin
Bridge Sign Rental
Steve Rewolinski
Kelly Mains